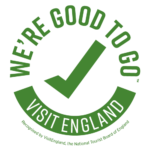 We have been taking lots of positive steps to ensure your well-being during your stay. One thing that remains unchanged to all our past and future guests is that if you would like to have a relaxing rural holiday, weekend break in the countryside or are attending a local wedding venue, we will still provide great hospitality in our beautiful, tranquil part of Northumberland which our rural farmhouse bed and breakfast is renowned for. But we will be working differently to ensure the well-being guests during your stay, and our staff.
If you already have a booking with us and need to rearrange due to Covid-19, please contact us and we will make the changes you need to your booking.
We have hand sanitizer available in our reception hall way and in all 3 guest rooms.
We have a key safe system for guests who would prefer to do self check in. Please contact us for details.
We are offering both bed & breakfast rates and room only rates. For room only rates, please call Dunns Houses directly.
Our house keeping team will carry out rigorous cleaning regimes throughout all public areas and guest rooms, paying special attention to frequently touched surfaces.
We use a professional laundry service for all of our bed linen, towels, table cloths and napkins.
We have 3 dining tables in our breakfast lounge which are all spaced out to ensure social distancing during breakfast.
We have breakfast menus for you to choose your breakfast time and breakfast meal, the evening before. This way you can choose to have breakfast at different times to other guests, and all of your breakfast choices will be brought directly to your table.
All public areas, including reception hall and breakfast room are subject to social distancing guidelines.
All staff have been provided with face masks for everyone's safety. Please can guests bring their own face masks and wear during check in and where you feel necessary in public spaces.
Please can guests bring their own pens for filling in their registration forms and breakfast menus.
Please can guests do a temperature check before arriving at Dunns Houses and ensure you are only travelling if you have a normal temperature between 36.1 – 37.8 degrees and are symptom free. A digital thermometer will be available to check temperatures upon arrival. If you do develop Covid – 19 symptoms before your stay, please contact us to cancel your booking.
From Thursday 24th September 2020 we will be enforcing rule of 6, NHS QR code posters and contact logs please have the NHS COVID-19 APP downloaded onto your mobiles from the 24th September 2020 and scan the bar code on the reception area wall on arrival please.
Please note from 1st September 2020 your bedrooms will not be serviced on a daily bases as updated guide lines stress for the safety of our staff this is no longer required.
Please ask a member of staff during breakfast if you need clean towels,toilet rolls, cups, glasses, tea,coffee, milk or biscuits. Bin liners.
Leave all used items out side your rooms thank you.
We will continually monitor these systems and solutions to ensure we are adhering to current government guidelines and are keeping you safe and healthy. Thank you for your understanding during this unprecedented time.